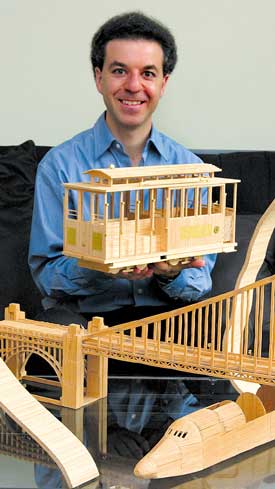 Meet Your Neighbor:
The Toothpick Sculptor
Jimmy Christopher
---
Catch Catch "Meet Your Neighbor" on CBS 5, Evening Magazine.
---
NAME: Steve Backman
CITY OF RESIDENCE: Burlingame, CA
Occupation: World Renowned Architect
UP ALL NIGHT
It's 3am in a dimly lit Burlingame apartment complex. Every window of this 25-unit property has long since gone dark, except for apartment #17. There's no telling when the lamp will be extinguished, for this is a nightly ritual. Not a peep can be heard by sleeping neighbors, because the famous occupant is quietly sitting at his kitchen table, planning and constructing the most fascinating of masterpieces. After all, Steve Backman is the architect of San Francisco's most renowned landmarks! Sort of.

"I built the Golden Gate Bridge in two and a half years," says Backman proudly. "And I erected the first cable car of its kind in about 100 hours."

He rarely leaves his apartment.

FUZZY MATH
If you do the calculations, you might quickly reject the idea that Steve built the Golden Gate Bridge. Backman was born in 1966 and the red bridge was erected in 1937.
"I made the bridge using 30,000 toothpicks and glue," declares the clinically sane Backman.

Yes, it's true: The toothpick has found its ultimate calling, no longer just a device for picking junk out of your teeth. While many artists use metal or fire, Steve is carving a niche for himself with his intricate toothpick sculptures. What might seem like the strangest of pastimes is turning into a rather lucrative career. His cable cars, some of which are turned into music boxes with moving gates and working lights, take up to 100 hours to construct.

"One of my music box cable cars was made with 4,000 toothpicks and is highlighted with 14 karat gold," says Backman, adding that San Francisco art galleries have sold them for $4,000 each.

He's crafted replicas of Hollywood movie sets, the Space Shuttle and what might be most impressive: a four-and-a-half-foot yacht that actually cruises on water.

"This yacht is the crčme de la crčme of my toothpick sculptures. It's meticulously made from 20,000 toothpicks and glue. It has a two-channel remote-controlled system, complete with toothpick rudders. And it took six months to build."

It's valued at $25,000.

STARTING YOUNG
The San Francisco native began playing with these teeny sticks of wood when he was in grade school. A science project called for the little boys and girls to construct DNA molecules out of everyday objects.

"I decided to use some toothpicks. After accidentally getting a toothpick stuck in the palm of my hand, I gave up."

But ultimately, injuries couldn't stand in the way of Backman's creative spirit. In college, with dreams of being an architect, Steve decided to start experimenting with toothpicks again. He created dioramas for class and attempted his first cable car. The hobby snowballed and the next thing Backman knew, he was building an intricate 13-foot replica of the Golden Gate Bridge, complete with working lights. He garnered the attention of the local media and then-mayor Dianne Feinstein. The bridge was so amazing, that the folks at the Ripley's Believe It Or Not Museum in Hollywood purchased the wooden wonder for permanent display.

HITTING THE BIG TIME?
When the dot.com boom was in full swing, Steve's sculptures took a back seat to making some real dough. But with every boom, there is a bust. Backman, now unemployed, is knee deep in toothpicks again. And people are starting to notice. Martha Stewart has even come knocking. She wants him to appear on her show, and the CBS Early Show is interested, too.

"I spent all night making a replica of David Letterman. His people were at first interested, but then they thought it wasn't wacky enough for Dave." [Note: This author personally set eyes on the wooden Letterman bust and must admit, it's unbelievably lifelike.]

So now he's moving onto a replica of Jay Leno, featuring that famous chin. Will NBC bite? Why not, they were dumb enough to buy Coupling.
SPONSORSHIPS
Steve has convinced the folks at Elmer's Glue and the Diamond Brand Toothpick Company to supply him with a lifetime gaggle of glue and sticks. Piles of picks litter every inch of his apartment and are stashed in large boxes throughout his domicile. One thing is certain: His vacuum cleaner is always on the fritz and the place is stickier than a carpet made of cactus fur.

GIRLS? WHAT GIRLS?
How's the social life? It's no surprise that a grown man, who often works 24 hours straight on his little arts & crafts projects, is not having much luck in the romance department.

"I had a girlfriend not long ago, but it's my choice not to be in a relationship. I'm in love with my toothpicks, these are my relationships."

Is he a passionate artist, or have the glue fumes finally gotten to him? You decide:

"One time I was working on a cable car and at 3am, I dropped it and it broke. I didn't go to bed until I finished it… many, many hours later."

WHAT'S NEXT?
Perhaps the Bay Bridge? Maybe the Transamerica Pyramid? Possibly a full-size replica of Mayor Gavin Newsom's hair?

Backman won't say… But a man with millions of pieces of wood, a crap-load of glue and all the time in the world can just about do anything he dang well pleases.
Send this Article to a friend!
Printer Friendly